2020 SEASON FIXTURES UNVEILED TODAY
Middlesex Cricket is today delighted to unveil the fixtures for the 2020 domestic season.
Firstly, the club is excited to announce that there will be more County Championship cricket at Lord's next season compared to 2019, with all but one of our four-day fixtures being played at the Home of Cricket. The County Championship season kicks off for Middlesex with a home clash against Worcestershire at Lord's on Easter Sunday, 12th April.
Secondly, fans and members will be really pleased to hear that the opening twelve County Championship matches of 2020 will be played on at least one weekend day, making the first-class game much more accessible to those that work on weekdays.
The club's one County Championship clash away from Lord's will be played at Merchant Taylors' School, a venue where Middlesex has enjoyed plenty of success in the four-day format in recent seasons and where we remain undefeated in the first-class game.
Lord's will also be hosting more of Middlesex's Vitality Blast encounters in 2020, with five of the club's seven South Group matches being played at our St John's Wood home - four on Thursday nights under floodlights and one on a Sunday afternoon.
Old Deer Park in Richmond, the scene of 2019's sell-out crowd and our comprehensive victory against Somerset will host one of our outground clashes, with Merchant Taylors' School hosting the other, in the same week as we compete at Northwood in the County Championship.
Our Vitality Blast campaign gets underway on the opening night of the tournament, and there's no bigger clash to kick things off than the London derby, when Middlesex will take on Surrey at the Kia Oval on 28th May.
All four of the club's Royal London Cup fixtures will be played at Radlett Cricket Club, with us returning to a venue where we boast an impressive record in the fifty-over competition. In seven List-A matches at the Brunton Memorial Ground, Middlesex have run out winners on five occasions, including last season's victory over Glamorgan.
In a shake-up to the fifty-over competition, the previous North and South Group format has been discarded, in favour of a national draw, which now sees us taking on new opponents in the form of Lancashire, Durham and Worcestershire.
Our Royal London Cup campaign kicks off against Lancashire away at Sedburgh School on Sunday 19th July, before we return to Radlett the following Friday to take on Hampshire.
Also new this year will be two fifty over clashes against 'National Counties', Berkshire and Hertfordshire, both away, in mid-July, which will give us two competitive warm-up fixtures ahead of this year's Royal London Cup campaign getting underway.
Speaking of the release of Middlesex's 2020 fixtures, Chief Executive, Richard Goatley, said:
"With the planning of this year's fixtures providing a number of new challenges for the schedulers at the ECB, we're really pleased that we'll be playing more days of cricket at Lord's than last season.
"With more cricket in St John's Wood and with the vast majority of four-day games featuring at least one weekend day, many of our concerns over how next season's fixtures would look have been more than addressed.
"Our thanks go to the ECB and to our partners at MCC for being so accommodating and for working with us to provide our members and fans with a fixture list they can look forward to."
To download Middlesex's fixtures in all competitions direct to the calendar of your mobile phone or digital devise, please click HERE.
See below for Middlesex's full fixture list in 2020...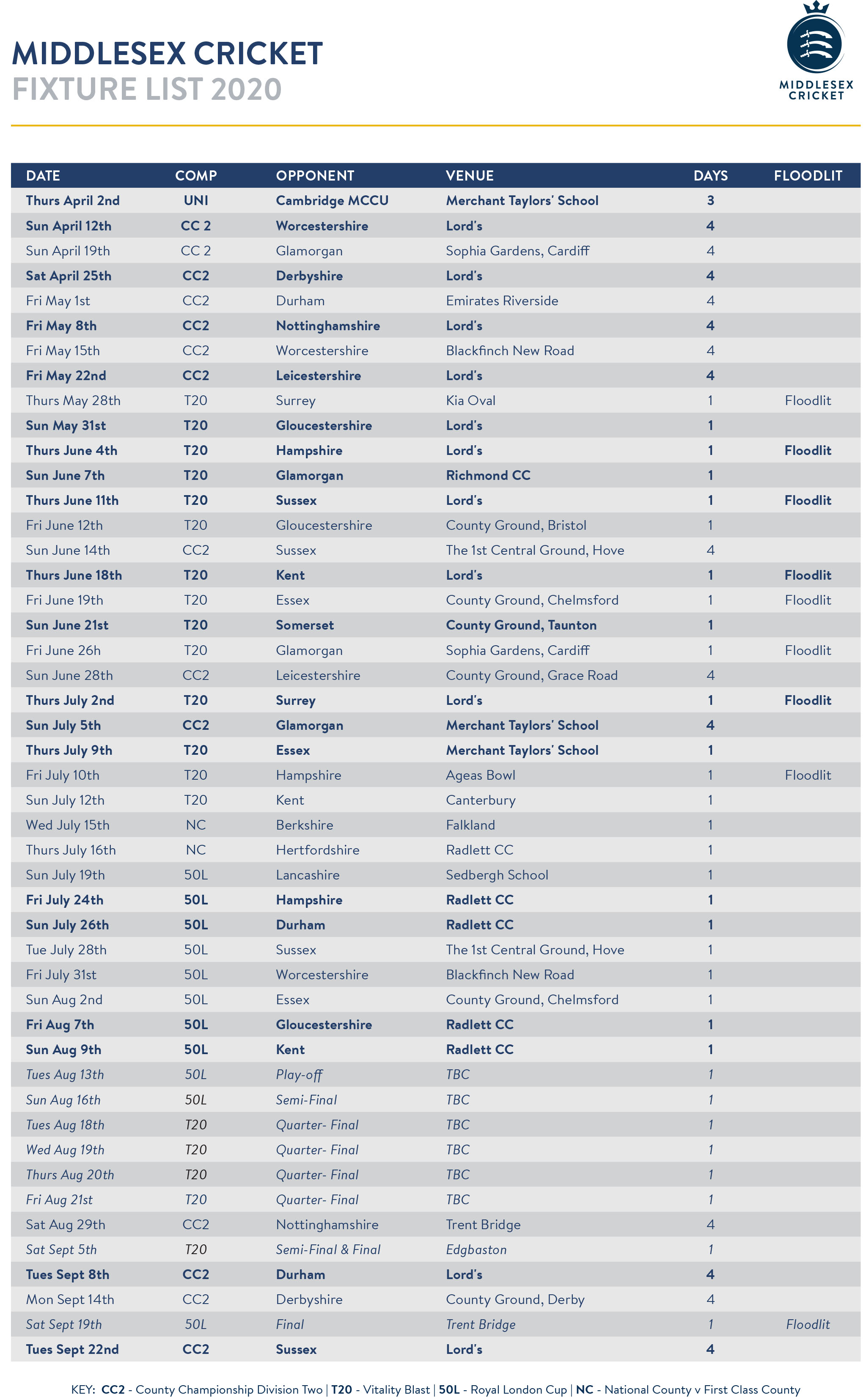 See below for the 2020 Summer of Cricket calendar...