2022 SEASON DOMESTIC MIDDLESEX FIXTURES ANNOUNCED
Middlesex Cricket is today delighted to be able to announce the fixtures for the forthcoming 2022 season - unveiling the playing schedules for all three Men's domestic competitions, both Sunrisers' Regional Elite Women's competitions, and the Middlesex Women's County T20 competition.
Middlesex Men's 2022 Fixtures
Once again Middlesex members and fans can look forward to six of our seven home LV= Insurance County Championship fixtures at the Home of Cricket, with our one remaining home four-day fixture being hosted at Merchant Taylors' School. This year sees a return to the two divisional Championship structure, with Middlesex's sights set firmly on competing well in Division Two to set up a return to the top-flight of the First-Class game.
The season gets underway on Thursday 7th April with a home County Championship clash against Derbyshire – the first of six back-to-back four-day fixtures that will be played in April and May. All six matches begin on Thursdays, with days three and four of every encounter being played over Saturdays and Sundays, giving fans twelve days of weekend First-Class cricket to look forward to early in the season.
With Pakistan pace sensation Shaheen Shah Afridi joining up with Middlesex in April and Peter Handscomb returning to lead the Club at the same time, there's plenty for members and fans to look forward to this year.
After the opening block of First-Class matches, attention then turns to the Vitality Blast, which kicks off on Thursday May 26th with a home tie against Gloucestershire at Radlett Cricket Club – the first of seven home matches we'll play in the South Group of the competition, with four home matches at Lord's and three at Radlett.
This year the game celebrates its twentieth year of T20 cricket since its formation in 2003, and with Eoin Morgan returning to Middlesex action after a winter away with England, alongside Pakistan ace Shaheen, and with one other overseas star still to be unveiled, it promises to be a blockbuster summer of Vitality Blast action following Middlesex this year.
The Vitality Blast group stages conclude on Sunday 3rd July, with fourteen matches played in all, ahead of the competition ending at Finals Day at Edgbaston on Saturday 16th July.
Five further County Championship matches will be played in the peak summer months of June and July, with three games away from home and two at home against Worcestershire at Merchant Taylors', starting on Monday 11th July, and against Sussex at Lord's, starting on Tuesday 19th July. The Championship season concludes with three further fixtures in September, one at Lord's against Glamorgan, starting on Monday 12th, and ending with our final fixture of the season away to Worcestershire at New Road, between Monday 26th and Thursday 29th.
Whilst cancelled due to Covid restrictions in 2020, the two fifty-over clashes against our neighbouring 'National Counties' of Berkshire and Hertfordshire are back in the calendar this summer, to be played on 31st July and 2nd August, with both matches away from home with venues yet to be confirmed.
Both National County fixtures will be played as warm-ups ahead of the Royal London Cup, which begins with a home tie for Middlesex against Leicestershire on Thursday 4th August.
Radlett's Brunton Memorial Ground will again be Middlesex's home of out-ground white-ball cricket this summer, hosting not only all three Vitality Blast matches being played away from Lord's, but also all four of our home Royal London Cup fixtures. The Royal London Cup group stages come to an end on Tuesday 23rd August, ahead of the play-offs and semi-finals, before concluding with the final on Saturday 17th September at Trent Bridge.
Middlesex Men's pre-season friendly fixtures and Second Eleven fixtures are currently being finalised and will be announced in the near future, once opposition and match venues have been finalised.

Tickets to all Middlesex matches at Lord's and all out-ground venues will be available to purchase from early March.
Download a PDF of Middlesex Men's fixtures HERE
Sunrisers' Women's Elite Regional 2022 Fixtures
Sunrisers' 2022 season begins in the T20 format when they'll take on local rivals, the South East Stars, in the Charlotte Edwards Cup at home, with a clash at Essex's Cloud County Ground on Saturday 14th May 2022. This is the first of six group matches the Sunrisers will play in the short format of the game, which is condensed into a one-month block at the beginning of the season, ahead of the competition final taking place at Northampton's County Ground on Saturday 11th June.
Attention then turns to the Rachael Heyhoe Flint Trophy and the fifty-over format of the game, with Sunrisers opening fixture away to the South East Stars at Guildford. Another away trip follows, to Headingley with Northern Diamonds in opposition, before the Sunrisers' first home game of the fifty-over campaign with Western Storm visiting the Cloud County Ground in Chelmsford on Saturday 16th July.
This year the Rachael Heyhoe Flint Trophy sees all sides competing for an outing at the Home of Cricket, with the final being played at Lord's on Sunday 25th September. What a showpiece end to the season that will be.
Download a PDF of Sunrisers 2022 fixtures HERE
Middlesex Women's County T20 Fixtures
Middlesex Women will complete in group seven of the Vitality Women's County T20 competition, with fixtures against Buckinghamshire, Hertfordshire, and Huntingdonshire.
The format this year sees the Women playing double header fixtures against each group opponent over three weekends to complete their six group matches, beginning with two opening encounters for Middlesex against Huntingdonshire on Monday 18th April. They then take on Buckinghamshire at Home at Mill Hill School on Sunday 24th April, and finish with two clashes against Hertfordshire on Sunday 2nd May, again at Mill Hill School.
Middlesex Women will also be competing in the Women's London Championship this summer, when they'll take on local Southeast rivals Surrey, Kent, Essex, and Sussex in the fifty over format of the game. Fixtures for the London Championship and London Cup T20 fixture versus Surrey will be announced in due course.
Download a PDF of Middlesex Women's County T20 Fixtures HERE
Middlesex Cricket will also be publishing the 2022 fixtures for the Club's Disability squads and Seniors squads in the coming few days, so please be on the lookout for these, which will be announced on the Club's website.
Speaking of the release of Middlesex's 2022 fixtures, Chief Executive, Andrew Cornish, commented:
"Our thanks go to all members and supporters of Middlesex for the patience they have shown in waiting for this year's fixtures to be released, we hope it's been worth the wait.
"Planning a congested fixture schedule is by no means a simple task, so whilst the delay in being able to announce the fixtures has been frustrating, I have plenty of sympathy for the ECB who have an extremely difficult task in pulling it all together and mapping out an increasingly congested summer schedule of cricket.
"We are delighted that once again we have six of our seven Championship matches at Lord's, with a number of weekend match days in the schedule, giving our followers plenty of opportunity to enjoy seeing us play at the Home of Cricket. And with five First-Class games being played this year in June and July, the schedule certainly represents an improvement on last year, which is most pleasing.
"With our Men's side working under a new leadership group, with an exciting group of players, supported by some genuine world-class talent, we're really looking forward to what the coming season can bring.
"Sunrisers will be looking to build on their improved season last summer, and we're excited to see how this talented group of Women develops in 2022. We saw a huge amount of positives last season and with the amount of work that's being done to prepare the squad for the 2022 season, there's nothing to suggest that Sunrisers won't be a competitive force in 2022. What better incentive for them to focus on than the potential of a final here at Lord's – fingers crossed for a successful campaign.
"Middlesex Women have a great opportunity to compete well in group seven of the Women's County T20 competition and should be rightly optimistic for success in the shorter format of the game. We've still got some tinkering to do with the schedule for the fifty-over London Championship schedule, which will be announced soon, however under the leadership of Sanjay Patel, the squad are full of optimism and excited about what this season could hold."
"Our thanks again goes to all members and supporters for your understanding of the delays we have experienced and we very much look forward to enjoying a successful 2022 season with you all in all formats of the game."
To download Middlesex's fixtures direct to the calendar of your mobile phone or digital device, please click HERE.
See below for the full fixture lists:
MIDDLESEX MEN'S FIRST ELEVEN 2022 FIXTURES...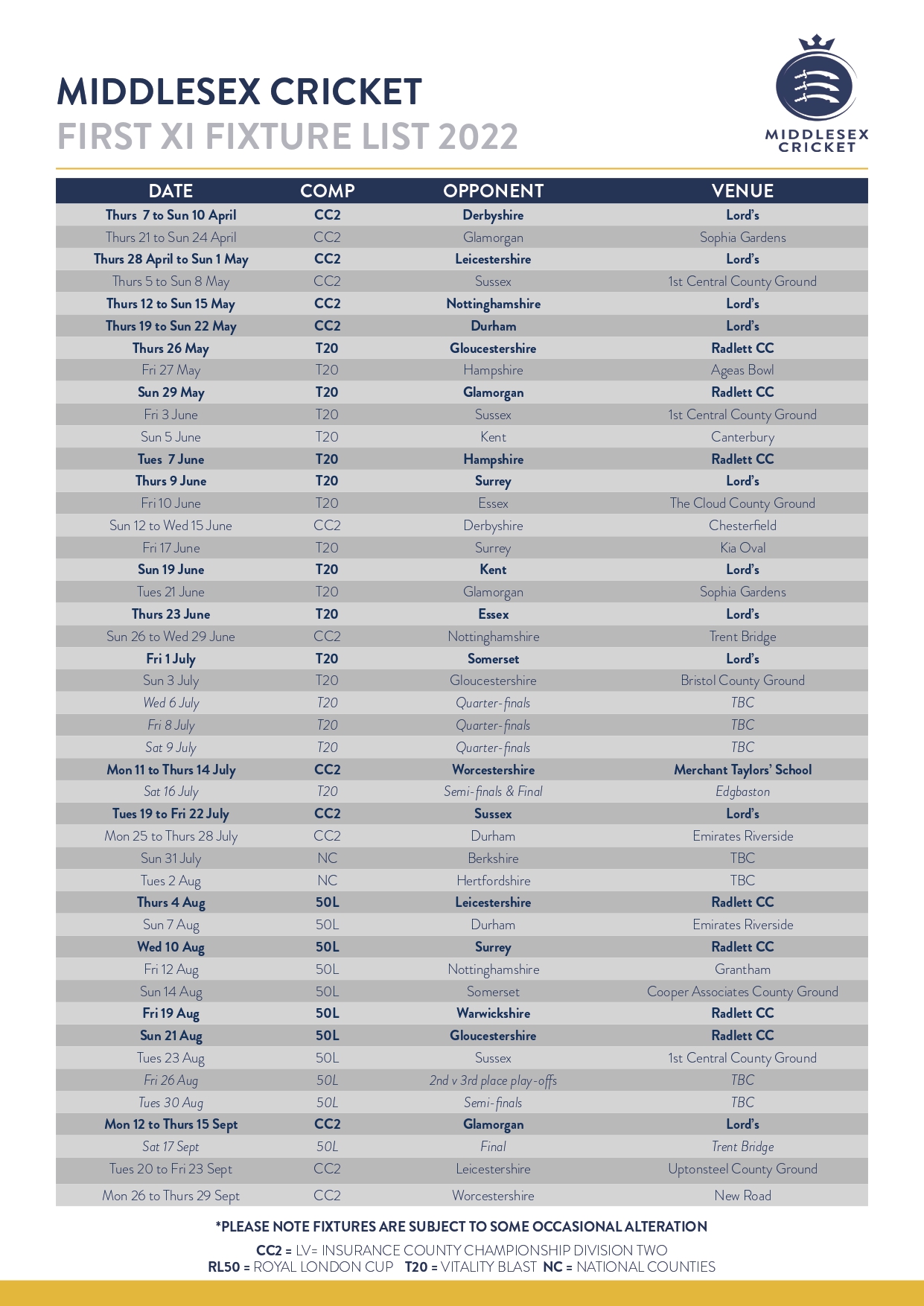 SUNRISERS 2022 FIXTURES...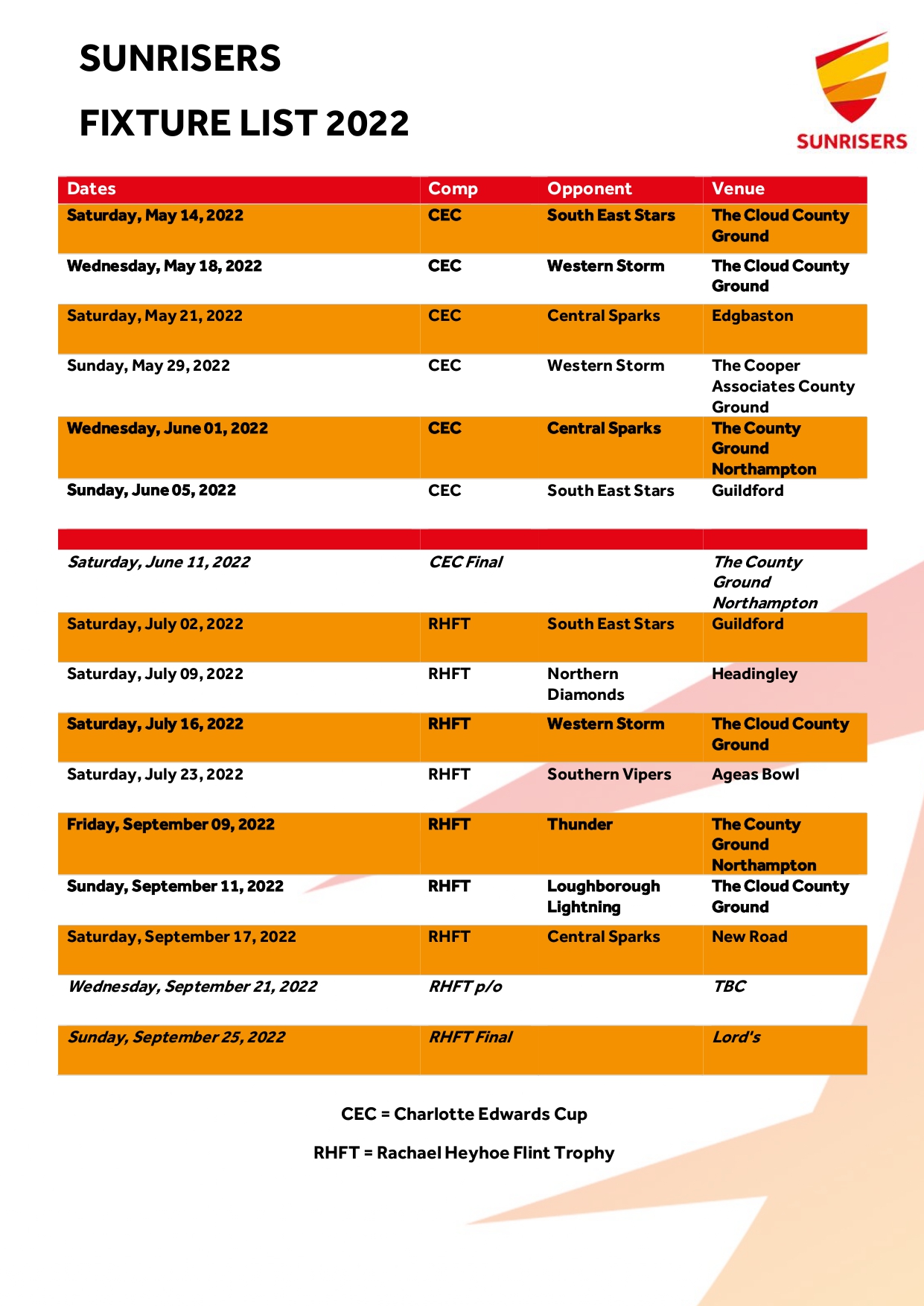 MIDDLESEX WOMEN'S 2022 COUNTY T20 FIXTURES...