MIDDLESEX CRICKET CELEBRATES MIDDLESEX DAY AT NUMBER 10 WITH THE PRIME MINISTER, BORIS JOHNSON
With today being Middlesex Day, Middlesex Cricket were honoured to be invited to celebrate our county's special day at 10 Downing Street with The Prime Minister, Boris Johnson.
Members of the Middlesex Participation Team, three of the Club's current players, and Chief Executive Officer, Andrew Cornish, were joined by a group of school children from Bourne Primary School in Ruislip, based in the heart of the Prime Minister's own constituency of Uxbridge and South Ruislip.
The visiting group, including Middlesex's Men's Robbie White, Middlesex Women's Naomi Dattani, and Middlesex Disability player James Nordin, were greeted at Number 10 by the wonderful sight of the original Middlesex county flag temporarily proudly flying high above Downing Street, to mark today being Middlesex Day, and all were then treated to a session of cricket in the gardens of Number 10 with the Prime Minister.
Our thanks go to Boris Johnson and all at Number 10 for their hospitality this morning and for giving us this wonderful opportunity to mark this special day at such an iconic location in the heart of the county.
With thanks to Number 10 for the following images.
The Middlesex county flag flies proudly above Downing Street...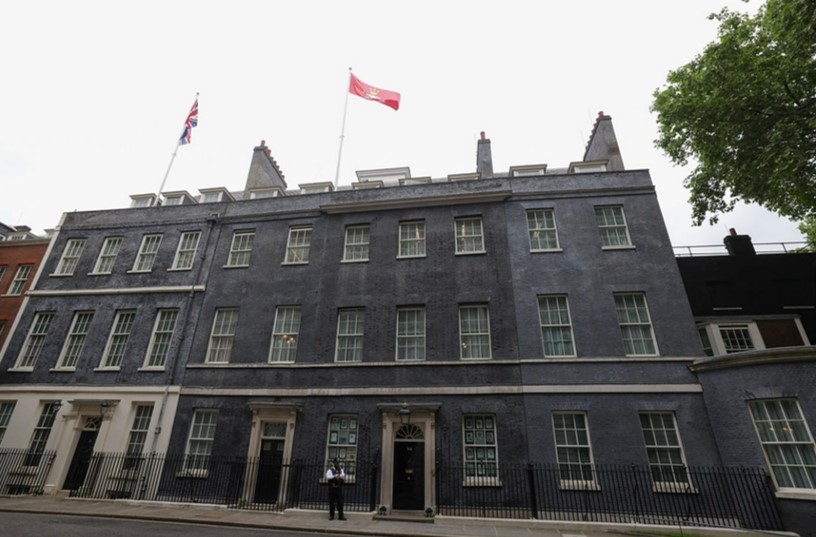 The Prime Minister, Boris Johnson, with pupils from Bourne Primary School in Ruislp
The visiting group pose for photos outside of Number 10's iconic black door