On the eve of the fourth Ashes Test beginning up at the Emirates Old Trafford what better time to sit back and reflect on the many, many Middlesex greats who have done their bit for their country in the heat of the Ashes!
A huge thanks to Tony Bishop, lifelong Middlesex supporter and commentator for Guerilla Cricket, for taking the time to pull this brilliant article together, and give us his thoughts on who would make his all-time eleven of Middlesex cricketers to have made a difference in the greatest contest the game of cricket has to offer!
Build it and they will come. The Middlesex Field of Dreams.
Heading into the 4th Test, the 2019 Ashes Series could not be better poised. Steve Smith had appeared immovable and Nathan Lyon unplayable. Now, thanks to Superman Ben Stokes and Clark Kent, aka Jack Leach, the picture looks different. The fitness of England's bowlers is still unreliable however and our top order unproven, a situation vacant sign permanently nailed to at least one of the openers.

"Is this Heaven? No, it's St John's Wood".
What if we had our own Middlesex Field of Dreams? What if any player who had ever played for Middlesex and also for England against Australia, was available for selection? What if Dennis Compton could be our Shoeless Joe Jackson? What a team we would have!
The idea of THE ultimate 'all time' Middlesex England team is tantalising. The best of the best, in their prime, walking though the Long Room and down the Pavilion steps together.
The first Test match with Australia took place in 1877. Middlesex were founded in 1864. So that's a combined 297 years of history to consider. By my reckoning, 72 Middlesex players have played for England during that time (or 70 if you exclude those who played their entire England careers when not actually at Middlesex). Of those, 51 have played Test matches against Australia, 44 of whom did so when also serving Middlesex.
From Derby to NW8
The idea to write this piece was born at the County Ground in Derbyshire, which is, by the way, a much under rated venue to watch county cricket. Middlesex were labouring to take Derbyshire wickets on a track that was not so much a road as a feather bed, with luxury quilt and a complimentary chocolate on the pillow. In a bid to buy us a wicket, I decided to have a stroll around the ground and chat to local characters. The many conversations I had were rich and colourful, memories cascading of Derbyshire greats through history and those players in common with Middlesex. My new friends would talk of Kim Barnet, Leslie Townsend and of course Michel Holding amongst others. We shared the likes of Chris Rogers and currently Tom Lace.
The ability to reach back into a sepia tinged past and wax lyrical on players that they may not even have been alive to see is a wonderful trait of cricket supporters. Although this was in the midst of the World Cup, the idea of selecting the all time Middlesex England team to go toe to toe with the current Aussies took hold, worming its way into my thoughts and not letting go.
As self - appointed Chairman of Selectors, the first task was to unilaterally decide on a couple of simple rules, so here they are:
The player must have played for England against Australia
They must be or have been a Middlesex player (ideally at the same time)
They have an X factor to succeed in today's game and particularly against the 2019 Australians
One wild card is allowed that breaks the above rules if needed
In the late 1980's, Dean Jones, the Australian middle -order batsmen asked Sir Donald Bradman how he would have fared against this great West Indies attack (Marshall, Ambrose, Walsh and Patterson). Bradman indicated that he would probably have averaged 60 or 70 against them. Before anyone could express their surprise at the low estimate, Bradman added "But I am 80 years old now"
In our all-time Middlesex England side, age has not wearied them, nor the year's condemned. In my opinion, they would be damn near unbeatable. Here they are, along with those who so nearly made selection, but just missed out.
Openers
Early morning at Old Trafford, a bit of cloud cover and we've lost the toss. In our imaginary Test, this might be a good toss to lose. There's a lot in it for the bowlers, but get in, play straight and there are runs to be made once the shine is off the new ball. A left hand, right hand combination will make it harder for the opening attack to settle.
1. Andrew Strauss OBE (2005 – 2011 Vs Australia)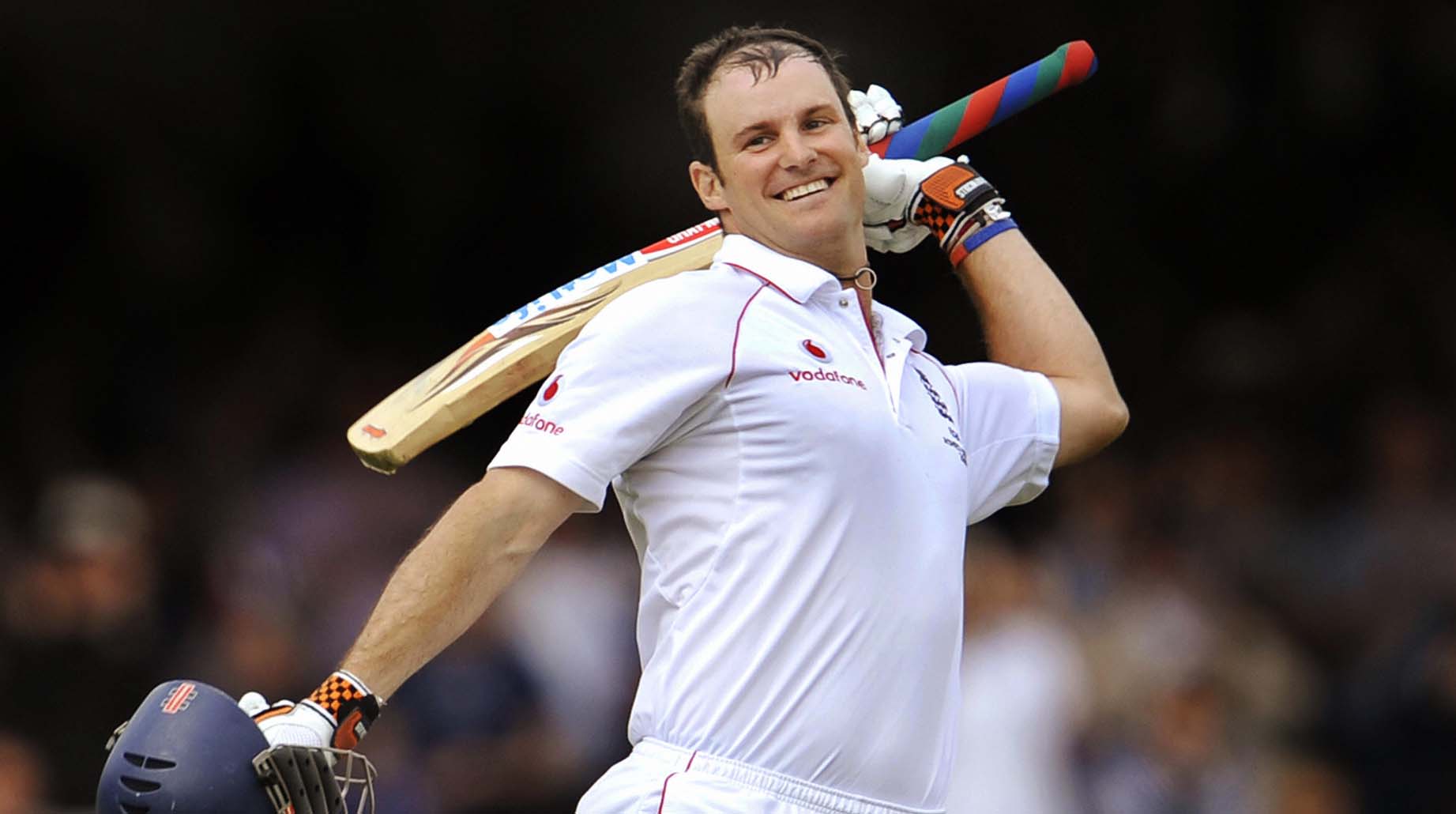 One hundred Tests at an average of 40.91 is pretty impressive. Add to that 1,421 runs in 20 matches Vs Australia at 39.47, built upon a rasping cut shot and neatness off the pads. 21 Test hundreds in all, four of them against Australia including a highest score of 161 (at Lords, of course), and 110 at the Gabba in the famous 517 for 1 innings. All make his case compelling. Most importantly, though, Andrew Strauss knew how to beat Australia, winning 3 out of 4 series he played in, two as captain. Great entertainers will always tell you, "leave the crowd wanting more". In a Test career of 2004 to 2012, Andrew Strauss certainly did that.
2. Bill Edrich DFC (1938 – 1955 Vs Australia)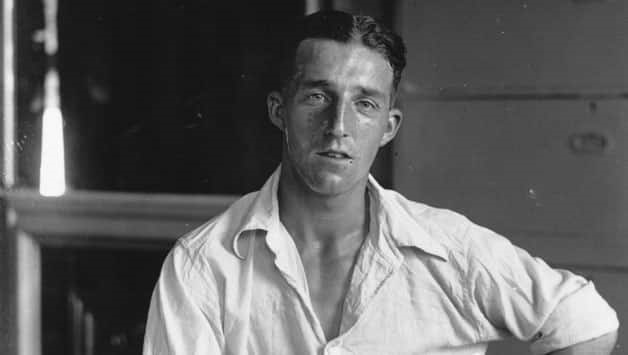 It is never just about statistics. Bill Edrich won his DFC as a bomber pilot, taking part in the most audacious low-level bombing raid of World War II. Twelve of the fifty-four planes on that raid never came back. Pilot skills are no guarantee of batting prowess, but a man that dodged anti – aircraft fire and probably the odd ME 109 buzzing around his tail is not going to cowed by a well-directed bouncer or incessant chirping and sledging from the slips or short leg. The former would be efficiently dealt with, the latter brushed away as would an irritating outback fly.
All that said, Bill Edrich has statistics in his favour. 39 Tests, that would have been many more but for the war and 2,440 runs at an average of 40. Against Australia he amassed 1,184 runs in 21 Tests with two centuries and 8 fifties. He was, by all accounts a splendid player of short pitched bowling and took any blows that came his way. Not the tallest in stature, he was a fair quick bowler too and managed 16 wickets against Australia with a best of 3/50. I suspect Andrew Strauss would relish the partnerships they would undoubtedly have shared.
Throughout Middlesex's illustrious history, many batsmen could enhance our England team.
John Dewes, Eric Russel, Wilf Slack, Andrew Ernest Stoddart and Sam Robson all would not let us down at the top of the order. Clive Radley averaged 48 in 10 Tests but was denied a pop at Australia by a cruel head injury in a 1978 warm up game in Adelaide. Dawid Malan has a recent brave Perth century to his name and is making a strong case for inclusion in the current England team. Patsy Hendren averaged nearly 40 against Australia and hit a magnificent 169 in Brisbane in 1928 among his 3 hundreds. Mark Ramprakash also averaged over 40 against Australia, but never cracked the code of a series win. Peter Parfitt was perhaps unlucky to have played at the same time as Geoff Boycott, John Edrich, Colin Cowdrey, Ken Barrington, Tom Graveney and Basil D'Oliveira. Ultimately none quite made the cut, but below are those that did.
3. Mike Gatting OBE (1980 – 1995 Vs Australia)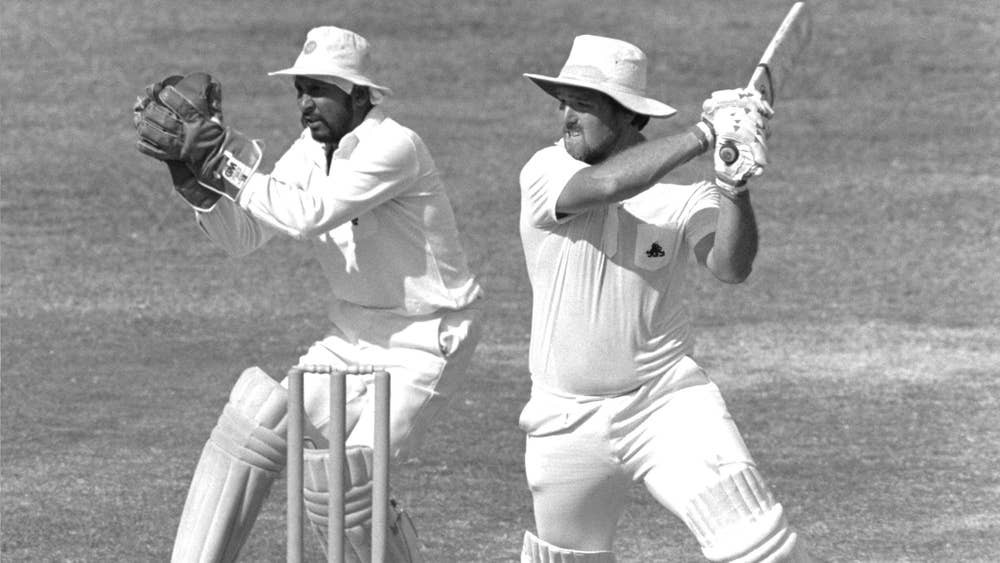 That Mike Gatting's career against Australia should so often be encapsulated by 'that one ball' from Shane Warne at Old Trafford is a travesty and the enduring image of an angry finger jabbing in the general direction of a distinctly dodgy umpire equally misleading. The records tell the true story. Whilst I have every confidence in my openers, even the greats can get the odd unplayable delivery. Were that to happen, the pugnacious, combative Mike Gatting is THE man to have bustling out at number 3.
4,407 runs in 79 Tests, with 1,661 at 37.75 against the old enemy. Add to that, four centuries, 12 fifties (including his first Ashes Test facing off to Denis Lillie), a highest score of 160 and a glorious series win as captain of the 1986/87 tourists. I have a strong feeling that should Australia magic up a sharply turning ball from outside leg, Mike Gatting would not fall for it twice!
4. Mike Brearley OBE (CAPT) (1977 – 1981 Vs Australia)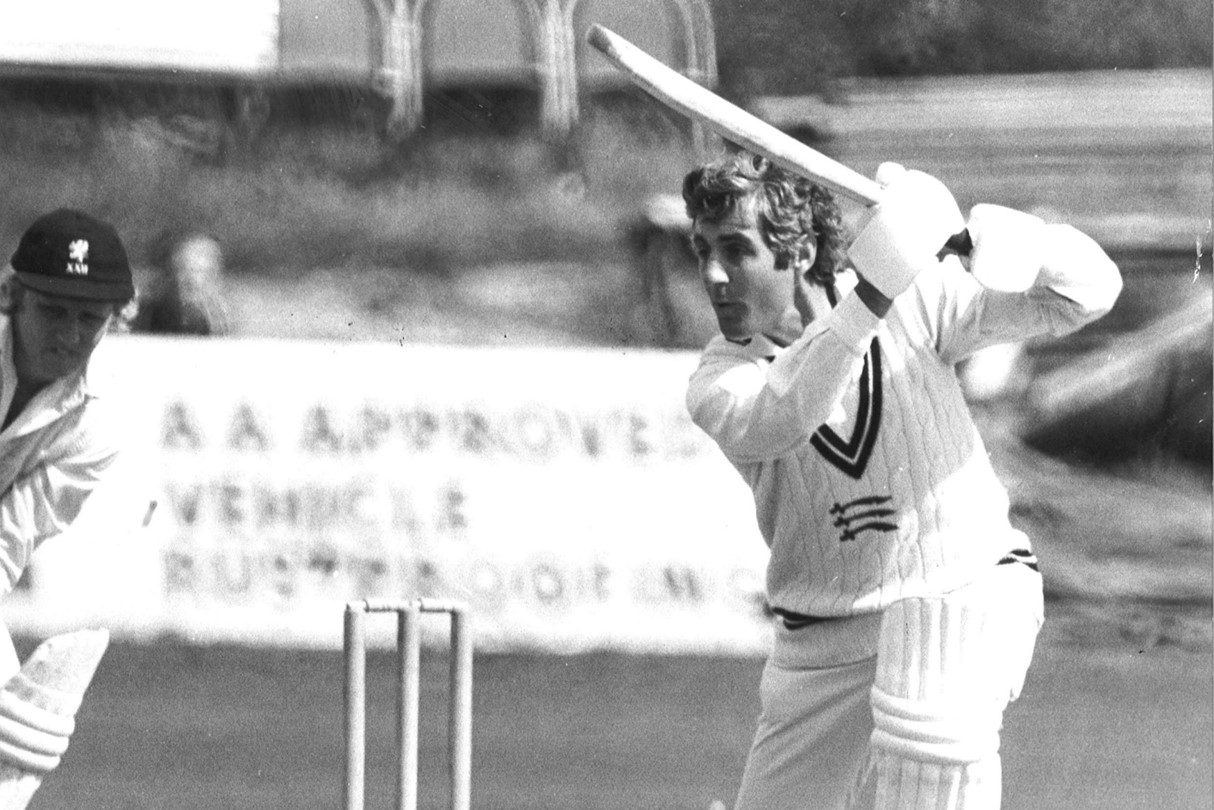 Middlesex yields an embarrassment of riches for potential captains. Andrew Strauss and Mike Gatting are both in our team at one and three and have the batting stats and performance as captain to claim the role with strong justification. Sir Pelham Warner played seven Tests against Australia, captained in five of them on the 1903/04 tour, winning 4 of those 5. Gubby Allen had the character and the stats, despite his 1936/37 tour where a 2 – 0 lead became a 3 -2 defeat. Still the only time an Ashes series has been turned around from a 2-0 deficit to a win.
Based on pure batting stats, Mike Brearley might be hard to justify in our team. 39 Tests with a batting average of 22.89 and no hundreds. As captain though, in 31 matches he had 18 wins and just 4 defeats (a win rate of 58%). Against Australia he was extraordinary. 3 out of 4 series wins, having first captained in 1977 when Tony Greig's undercover work with World Series Cricket came to light, winning that series 3 -0. That was following by a thumping 5 -1 win in the six Test 1978/79 tour. It is, however, the 1981 home series that most defines him. Taking over after two games and with England one down, three straight wins, including the Botham Headingly Test, sealed a 3 -1 series win.
Our Middlesex Field of Dreams team is loaded with big personalities. Mike Brearley resurrected a distraught Ian Botham and cajoled Bob Willis to his performance of a life time. He wrote the definitive book on captaincy and was described by Rodney Hogg as having "a degree in people". Mike Brearley is our man to lead our all – time Middlesex stars to Ashes victory.
5. Denis Compton CBE (1938 – 1956 Vs Australia)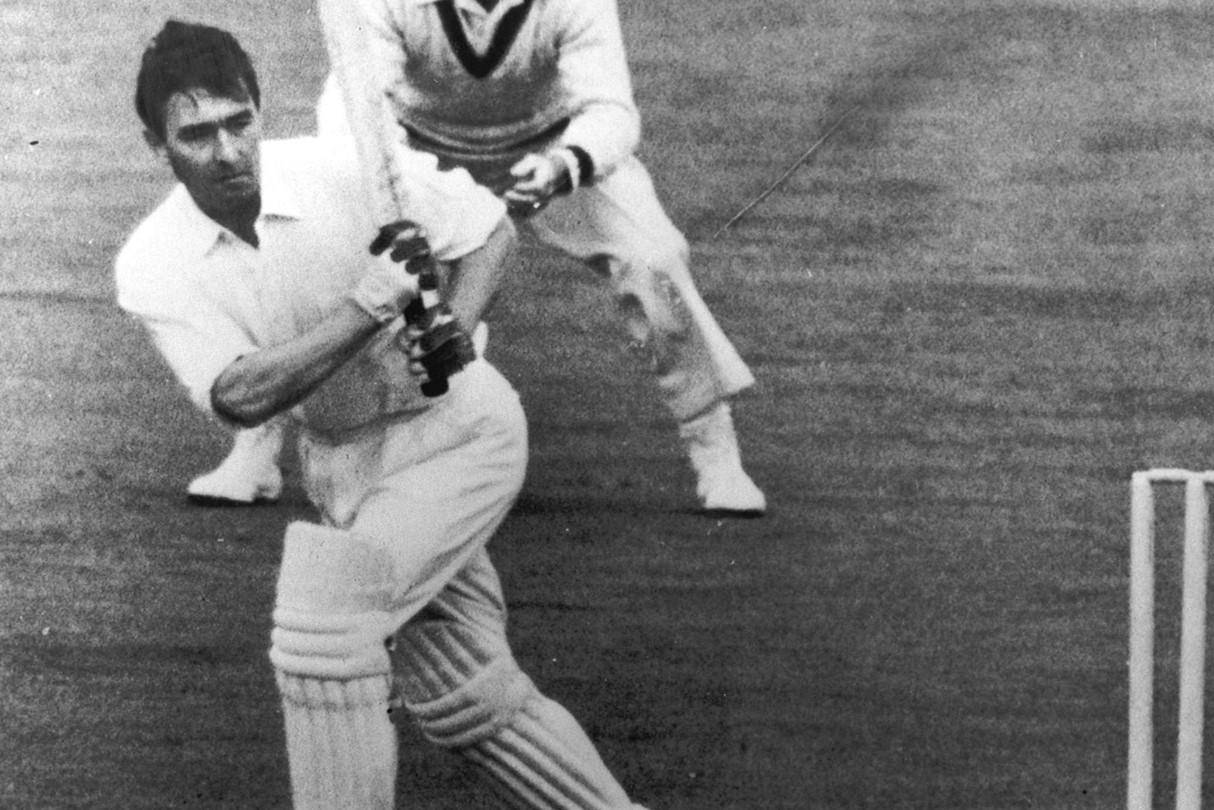 Dashing and cavalier, Denis Charles Scott Compton was cricket's matinee idol. Having announced himself to Australia with a century on his Ashes debut at Trent Bridge in 1938, he went on to shine in 28 Tests over 18 years, interrupted by the War, although even then, whilst posted in India he was able to make runs in the Ranji Trophy. Overall, he made 1,842 runs against Australia at 42.84, with 5 centuries and nine fifties. In all his 78 Tests, he amassed 5,807 elegant runs, with 17 tons, a highest score of 278 and an average of 50.06. In first class cricket he made no less than 123 first class centuries.
With DCS Compton however, it was not just the runs, it was the manner of their making. He lifted a nation wearied by war and rationing. His face adorned bill boards as the 'Brylcreem Boy'. When he wasn't making runs for England and Middlesex, he made 54 appearances for Arsenal, helping them to league titles in 1938 and 1948 as well as the FA Cup in 1950. In later years, even his dodgy knee acquired a celebrity status of its own and resided in the Lords Museum.
Always the man for a cricketing mot juste, Neville Cardus summed up Denis Compton thus: "Never have I been so deeply touched on a cricket ground as in this heavenly summer, when I went to Lord's to see a pale-faced crowd, existing on rations, the rocket-bomb still in the ears of most, and see the strain of anxiety and affliction passed from all hearts and shoulders at the sight of Compton in full sail...each stroke a flick of delight, a propulsion of happy, sane, healthy life. There were no rations in an innings by Compton".
6. Sir Gubby Allen (1930 – 1937 Vs Australia)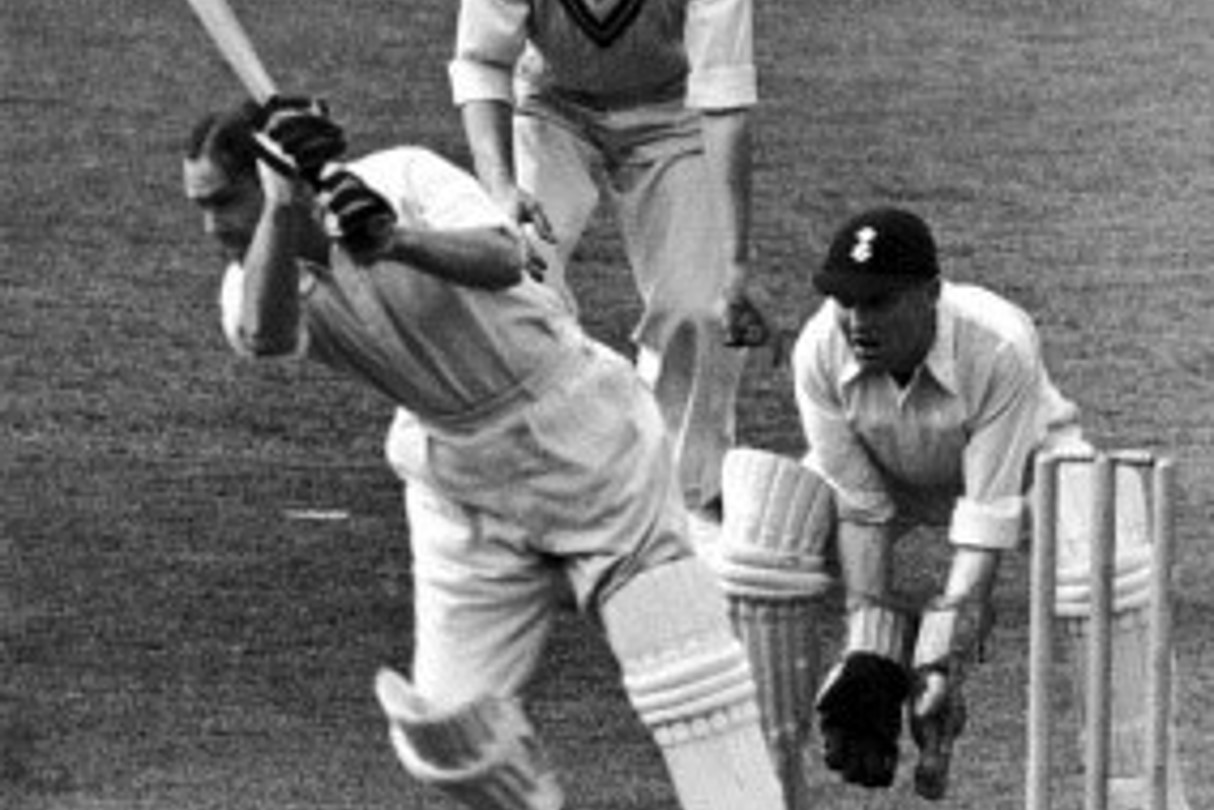 Most of our team have a second string to their bow, but if we are looking for one specific all-rounder, then George Oswald Browning Allen is the selection after considering a very strong field. Francis Ford, Neil Haig, Sir Tim O'Brien, Robert Walter Vivian Robins, Greville Stevens, Charles Studd and Charles Leslie all warranted consideration. Close scrutiny was given to the cases of both Alfred Lyttleton and Albert Trott. The former was the Great Uncle of Humphrey Littleton and famously bowled under arm lobs, taking 4 for 19 on the second morning of the 1884 Oval Test having taken off his wicket keeping pads. The latter actually played three games for Australia against England, averaging 102 with the bat before twice representing England against South Africa and taking 17 wickets at 11.65. In 1899, he acquired perhaps his greatest claim to fame playing for MCC and hitting a ball bowled by Monty Noble clean over the roof of the members' pavilion.
However, Gubby Allen stands above them all (quite literally of course with his own stand). In 25 Tests, he averaged 24.9 and took 81 wickets at 29 with his right arm quick bowling. A man of unshakable principles, he took 21 wickets in the 1932/33 Bodyline series (including Don Bradman twice), whist refusing point blank to bowl leg theory. His Middlesex teammate Ian Peebles anointed him with the title 'Mr Cricket' and he is our man to provide both runs and wickets.
7. John (JT) Murray (Wicket Keeper): (1961 – 1963 Vs Australia)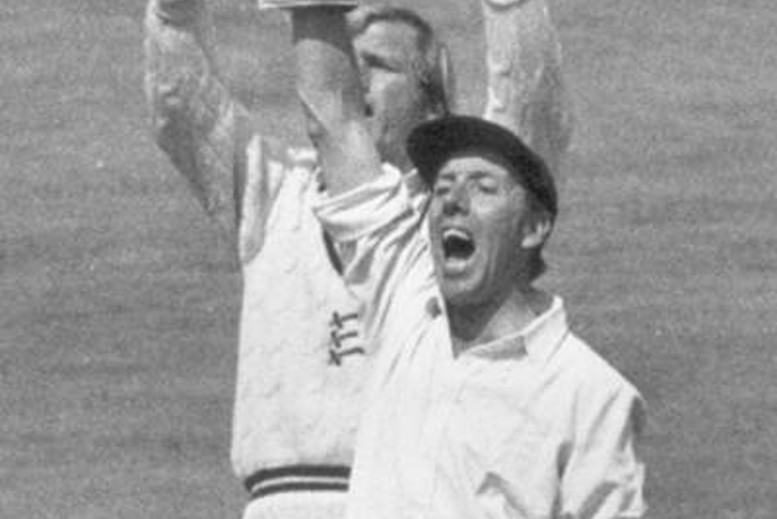 Middlesex are by no means short of options for wicket keeper. George MacGregor, Fred Price, Paul Downton and Ian Gould were amongst those that received due consideration. Ultimately, none came close to JT Murray, who once held the world record for the most wicketkeeping dismissals in a career, and still stands seconds on the all-time list. In total he took 1,268 catches and carried out 259 stumpings across 635 matches in a first-class career that spanned 1952 to 1975. As with Denis Compton's batting, it wasn't just the volume of dismissals, it was how they were achieved. JT was described by John Thicknesse as "one of cricket's great stylists" enthusing on how "with palms uppermost before each ball, his gloves traced flowing semi-circles, one the mirror image of the other". He was elegant in his batting too, averaging 22 in 21 Tests with a top score of 112 against the West Indies.
JT's passing in 2018 having been taken ill watching Middlesex at Lords is still keenly felt, but our Middlesex England team will not just win, but win with style with him behind the stumps.
8. Bernard Bosanquet (1903 – 1905 Vs Australia)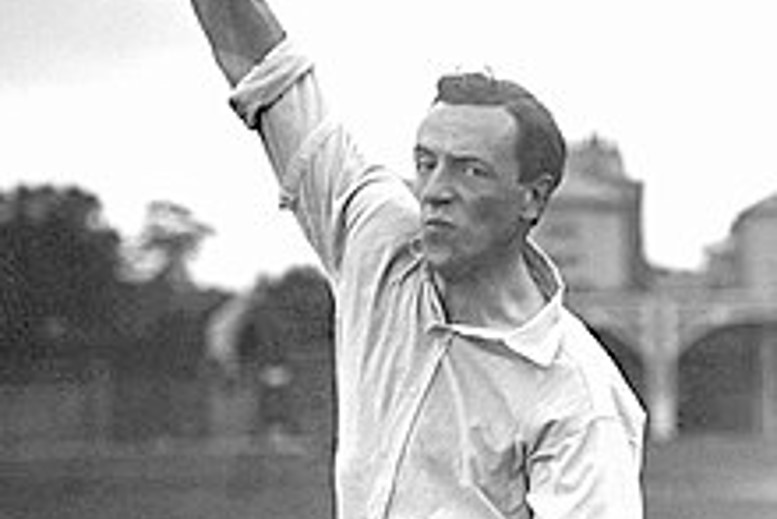 Great teams need a spinner that can both attack and defend. When the pitch is turning it is often their role to weave their magic and spin their team to victory. In our team, they need to be the man Mike Brearley can turn to if Steve Smith, or Marnus Labuschagne are starting to look too set.
Fred Titmus, John Emburey, Phil Edmonds and Phil Tufnell are off - spinners that all served Middlesex and England with distinction and enjoyed individual success against Australia.
Ian Peebles was a purveyor of leg breaks from a much earlier generation and in his only two Tests against Australia, he managed to make even The Don look fallible, removing him at Old Trafford in 1930 for just 14 as part of his 3 for 150. Sadly, his efforts were part of a draw and a defeat.
Therefore, the selection for this Middlesex 'Field of Dreams' team is Bernard Bosanquet. The man who invented the googly. If Steve Smith grows roots then Bernard has the inventiveness to uproot him. Although somewhat erratic, his stats back up his selection as does his courage as an RFC airman in the First World War. In 7 Tests across two series, he took 25 wickets at an average of 24, with a best of 8/107. Most importantly, he won 5 and lost only two of those 7 Tests, winning both series.
Whilst uncovered pitches will factor in any debate about spin bowling, Bernard's average and win rate speak for themselves. Fred Titmus took more wickets but rather more expensively. He was certainly a more capable batsman in his 13 years punctuated by the unfortunate loss of four toes. Crucially, he was not part of a winning series. In 25 Ashes Tests, John Emburey took 78 wickets at 34.4 with a best of 7/78 at the SCG. He could more than hold a bat and his win rate in six series is positive with 4 wins as well as draws in the one-off Centenary and Bi Centenary Tests. Phil Edmonds and Phil Tuffnell had remarkably similar records. Edmonds took 36 wickets at 37 in 13 matches. The Cat also took 36 wickets at 38 in 12 matches. The former boasted a strong 3 -1 win rate whilst having the ability to turn matches, the latter, sadly, did not achieve a series win in 5 attempts.
So, Bernard gets the nod, but, if it's a turning pitch and we play two spinners, then John Emburey will play in place of a seamer to form a deadly spin duo with him.
9. Angus Fraser MBE (1989 – 1998 Vs Australia)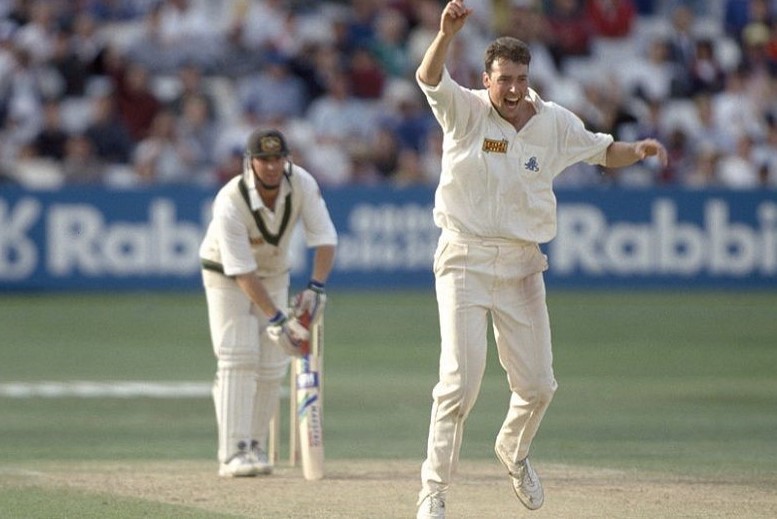 At first glance, Middlesex might appear under gunned in the seam and swing department compared to that of spin. Digging deeper reveals a very different story.
Norman Cowans had genuine raw pace and in 19 Tests took 51 at 39. Against Australia in 5 matches he took 13 wickets at 40.31, etching himself into Ashes history with 6/77 to win the 1982 MCG nail biter by 3 runs.
John Price with his long curving run up took 7 wickets in 3 Tests but they were expensive at over 50.
Jack Durston was quick and went from being a ground boy at Lords, via The Royal Engineers in the Great War to his one and only Test at Lords, where he took 5 wickets in a 1921 8 wicket defeat. Why he never played a second Test is unclear. He did concede the winning runs and it seems, turned to off spin as he got older and considerably stouter.
Richard Johnson, John Warr and Dean Hedley might all make a claim, although in Hedley's case his excellent figures in 6 matches against Australia were both in a losing cause and during his spell with Kent following his year at Middlesex. Mike Selvey was a fine seamer for Middlesex, but his three Tests did not include Australia. Toby Roland Jones is yet to play Australia, but I am sure he will come again for England.
Having considered and discounted all of the above, for English conditions, our Middlesex Field of Dreams attack will be led by none other than Angus Fraser. Granted, his series record is not great and in fact he has the same negative win - loss ratio as Phil Tuffnell. However, in 12 Ashes Tests, Angus Fraser took 46 wickets with 3 'five-fers' at a healthy average of 30. His 6 for 82 in the 1991 Boxing Day Test included Alan Border, Dean Jones and Steve Waugh, sadly in a losing cause. Don't be fooled by that occasionally down beat demeanour. Controlled and consistent, Angus Fraser could exploit the merest hint of uneven bounce and a Captain's dream, he would run through walls for his team.
10. Jack (JT) Hearne (1896 – 1899 Vs Australia)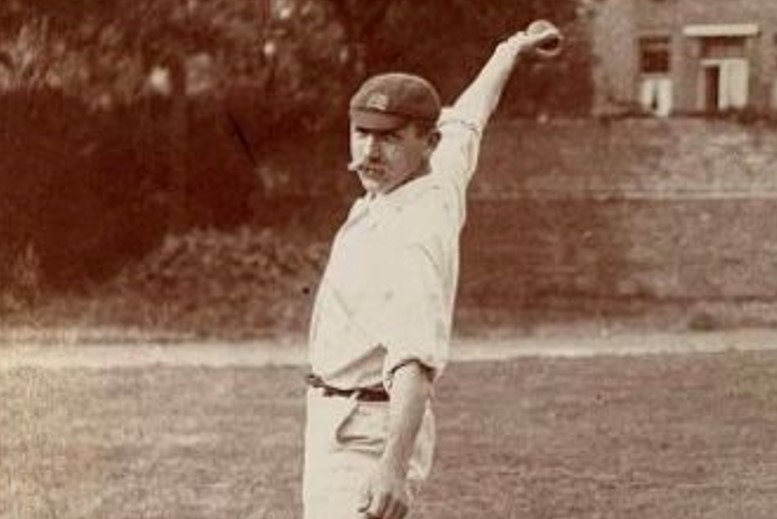 Between 1888 and 1923, JT Herne played no less than 639 first class matches for Middlesex, his one and only county (the majority before rather than after the Great War). He is still the fourth highest first - class wicket taker of all time with no less than 3,061 wickets. With three spinners ahead of him he is the leading seam bowler, consistently successful with his right arm medium pace. Against Australia he was deadly. Taking 48 wickets at a shade over 22. His 6/41, (one of two 6 wicket hauls), won the 1896 Oval Test and in all he won 3 Tests and one series in the three he played in.
11. Steven Finn (2010 – 2015 Vs Australia)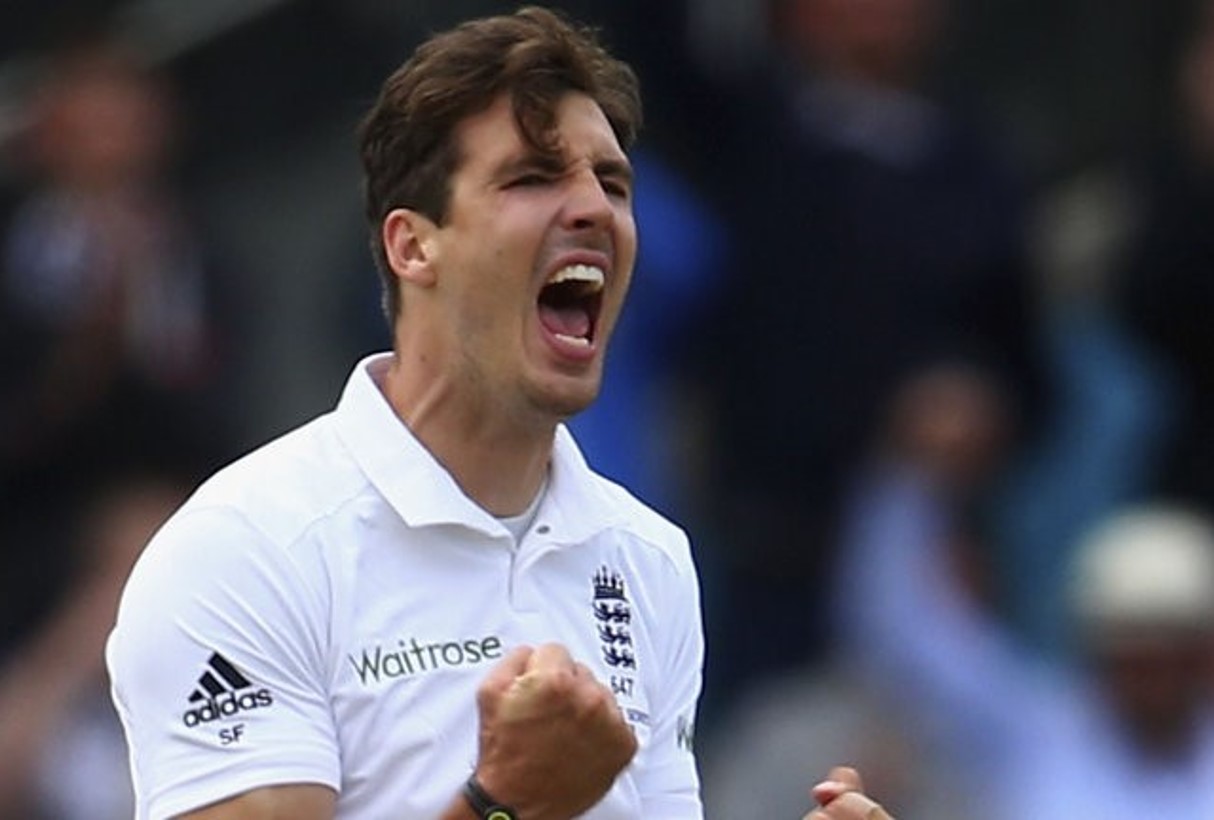 Carrying the flag for our current Middlesex generation is Steven Finn. Dawid Malan came close too. Finny, at his best is a fearsome prospect to face and recently, he is reminding us of that again. Alongside Fraser and Hearne, he will add genuine pace and bounce to their razor - sharp accuracy. An on- form Steven Finn has been too good for Australia's best on more than one occasion. He has twice taken 6 wickets in an innings against the Aussies and was never more deadly than at Edgbaston in 2015. Ripping through Australia's top and middle order, Finny removed Michael Clarke, Adam Voges, Mitchell Marsh, Peter Neville and Mitchell Johnson. But the first of his six was none other than Steve Smith, shuffling and pulling a short of length delivery, his top edge went high to Jos Buttler and Australia were 62/2. Remove Smith and Australia stumble. We could do with a bit of that at the moment and Finny can do it!
TONY BISHOP'S ELEVEN
Andrew Strauss OBE (2005 – 2011 Vs Australia)
Bill Edrich DFC (1938 – 1955 Vs Australia)
Mike Gatting OBE (1980 – 1995 Vs Australia)
Mike Brearley OBE (CAPT) (1977 – 1981 Vs Australia)
Denis Compton CBE (1938 – 1956 Vs Australia)
Sir Gubby Allen (1930 – 1937 Vs Australia)
John (JT) Murray (Wicket Keeper): (1961 – 1963 Vs Australia)
Bernard Bosanquet (1903 – 1905 Vs Australia)
Angus Fraser MBE (1989 – 1998 Vs Australia)
Jack (JT) Hearne (1896 – 1899 Vs Australia)
Steven Finn (2010 – 2015 Vs Australia)
Let's leave the last word to Shoeless Joe Jackson from Field of Dreams. "It was the crowd, rising to their feet when the ball was hit deep. Shoot, I'd play for nothing!"
Some of our team did play for close to nothing. Those more recently have been better rewarded. They are all united by their excellence, their ability to excite and the indelible print they have left on both Middlesex and England. They are some team. Don't be afraid to select your own. I promise it will be a hugely rewarding experience!
About the Author of this article...
Tony Bishop is a cricket commentator, writer and analyst, regularly heard on https://www.guerillacricket.com/ covering major Test matches, ODIs and T20s.
He was in the commentary boxes for Ireland's inaugural Test match and at Lords for West Indies and the Rest of the World.
As a lifelong Middlesex fan and member, he has been following the Middle since 1970, through thick and thin, relishing the thick and brushing off the thin.