SHEPHERD'S BUSH AND LONDON TIGERS VOLUNTEER HEROES HONOURED WITH LV= PRIDE OF CRICKET AWARDS
The winners of the 2023 LV= Insurance Pride of Cricket Awards have been announced, with their stories highlighting the very best of grassroots cricket in England.
The awards, organised by The Cricketer and supported by LV= Insurance, were created in 2020 to tell incredible stories of commitment, creativity and compassion within the amateur game, and six categories once again opened for nominations in the spring.
Those nominations were whittled down to shortlists, and opened up to the cricketing public to vote for the individuals they thought most deserving of recognition. An expert panel also judged the entries, with a 50-50 weighting split between the vote and jury.
Two of this year's winners came from the county of Middlesex:
LV= Pride of Cricket award: Tim Howard, Shepherd's Bush CC
LV= Community Hero: Tanvir Ahamed, London Tigers
Congratulations from all at Middlesex Cricket go to Tim and Tanvir on their deserved recognition of all that they give to the game.
Our thanks go to the Cricketer for allowing us to share the following content on our website.
THE LV= PRIDE OF CRICKET AWARD
For those who have made a considerable impact on the game over the course of a lifetime - was won by Tim Howard of Shepherd's Bush CC in west London.
Tim Howard joined Shepherd's Bush CC aged seven. His on and off-field contributions since have been immense.
For the best part of 50 years, Tim Howard has featured prominently in the continued evolution and development of Shepherd's Bush CC. Tim's involvement in the club began aged seven when his parents moved to Acton and placed him in a local primary school, whose headmaster was the club's fixture secretary.

He has been hooked ever since. Starting as a colt, he made his first-team debut in 1981 and continued playing in the 1st XI until he retired in 2012.
By then, Tim had already taken on a new role as groundsman, a post that started as something to do between jobs – and for which he trained in his spare time – but then became an 11-year calling.
So, while the records will show that he is without doubt the most successful allrounder to have played for the club, it is his off-field contribution to Shepherd's Bush that stands him apart.
"In my head, Tim is Shepherd's Bush Cricket Club," says Briony Brock, who heads up the girls' section, which was the brainchild of Tim, who was a driving force behind it.
"Just the way that he goes about it, you couldn't ask for anything better in a supporter. He very gently gives it to you, and then you fly. He does that so brilliantly with the women and the girls."
Tim began as team secretary during his mid-teens, shortly after then-captain and current club president Alf Langley had brought him into the first team. These days, he claims just to focus on running the junior section, which includes managing three separate boys' age-groups, but Brock insists "that's not true at all".
"Tim has just always been frontline," she says. "We've had camps this week, and he'll be with the children doing an activity or mowing the square. He can't help himself, he is doing everything all of the time, just as he always did."
He was at the forefront of a sub-committee who fought for the future of the club in the late 1990s and then again once they were forced to move 200 yards to a new ground. He was among those who secured funding for a pavilion and facilities as the new ground took shape.
"That was probably the biggest challenge for the club in the last 50 years," says Tim, a reluctant award-winner.
"It has been a joy to be involved. It does feel like home; I've spent most of my life here, playing every Saturday and every Sunday. And then with all the junior cricket, running matches after school for the kids. There are weeks where you're here seven days per week. It's been part of my life for 50 years. I'm here for life, so they'll have to put up with me for a little bit longer. It is just nice to be providing cricket for the youngsters in the area."
As part of that, he works with the local borough to host school tournaments at Shepherd's Bush, while continuing to coach and mentor players at all levels.
"They just absolutely adore him," says Brock. "Everybody speaks about him with such awe. Everybody knows who Tim is. The children just think he's amazing and have so much respect for him.
"If I tell them not to walk across the square, they'll walk across the square. If Tim tells them, they'll never walk across the square for the rest of their lives. It just sticks. There is something about the way that he communicates that is patient but not dictatorial, and really coming from such knowledge and experience. The parents just see what he puts into the club."
"I don't think any volunteer goes into it to win awards," adds Howard, "so it is a bit crazy and surreal to get the award through votes. We just sit in the background and do what we do, so to be recognised is quite nice but it's not something that we seek.".
Langley recalls a heritage day last summer when Shepherd's Bush played host to an occasion to mark the contribution of the Afro-Caribbean community to the club. It was Langley's brainchild, but he credits Tim with ensuring it came to fruition.
"Shortly after I came, we acquired a Caribbean influence," says Langley, "so Tim grew up as part of that heritage around the club. He fostered that environment and was able to communicate really well with people of that demographic, so our club, I think, was one of the key examples of how a properly integrated club could be in those terms. He was key to that.
"Even now, when the demographics have changed, there is still a demographic of that heritage who congregate at the club for social events while games are on and are still supporters of the club. He can navigate and make their continued presence at the club welcomed and treasured. He was one of the key drivers behind the heritage day, and he made sure that the rest of the club understood the reason behind it. He has lived through that history and is a great ambassador for us in that regard.
"His contribution can often go ignored because of his familiarity and the fact that he's always around, always on-hand. He is part of the furniture, so everybody underestimates his contributions. He is my go-to man. I live in Norfolk now but knowing that Tim is here is a huge relief. I couldn't do it without him."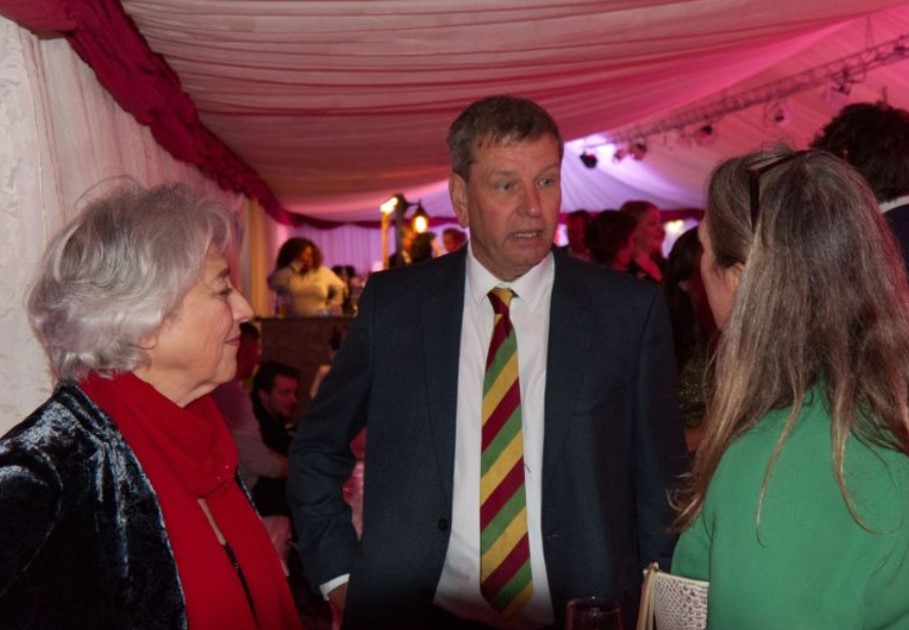 THE LV= COMMUNITY HERO AWARD

Was won in 2023 by Tanvir Ahamed for his work at London Tigers.
Tanvir Ahamed epitomises the positive energy running through London Tigers. He is respected by his community and idolised by his players

Spend just a short period of time inside the cricket operation at London Tigers and you'll get a true sense of the meaning of community spirit.
From the complex, located in the heart of Southall - home to a thriving South Asian population - to the warmth of the players who frequent it, it is a wholesome environment.
Cricket head coach Tanvir Ahamed epitomises the positive energy running through the club. He is respected by his community and idolised by his players. It is difficult to imagine what the club, which showcases more than a dozen teams, would look like without him.
"We need a lot of Tanvirs in this country," Tigers chair Shahidul Alam Ratan, chief executive of Capital Kids Cricket, told The Cricketer.
"He is a role model and I think people should follow how he engages with the community, the players and how he encourages them. Those stories need to be told and shown to the people and this is how we can get more Tanvirs."
He added: "He is always making them feel welcome. It is always for them. He goes above and beyond his work. He supports the parents the way he should, following safeguarding procedures to ensure children are home with other adults. Within the South Asian community, we have found it very difficult to get volunteers, very difficult to get parental commitment, but Tanvir what he has successfully done has always made sure that all kids can get home or go to away games."
Ahamed's work across 10 years with the Tigers, including inspiring 1,000s of young people through cricket, leading All Stars and Dynamos training programmes, mentoring, acting as a groundkeeper for junior and senior teams as well as volunteering at schools across the area, is finally getting the wider recognition it deserves.
Currently studying for his Level Three coaching qualification, last year he scooped the ECB national coach award and Middlesex coach of the year prizes.
He is once again in the winner's circle after being voted the LV= Community Hero for 2023, prevailing in a strong category containing five other nominees.
"Cricket is a sport where you can express yourself, " he said. "You allow more time in your life and is one of those sports where you get happiness as well. I've found my happiness in cricket.
"The community gave me the strength to do this. They're always supporting me, especially the parents, the kids, the volunteers, P.E. teachers from the schools. I do lots of charity events. The community supports me, they're an inspiration to me and it has given me a boost."
Central to the philosophy at London Tigers is personal development and wellbeing. The strive to be a safe space for people from BAME communities, using the power of sport to keep them from a life of crime.
"It is a big thing," Ahamed explains. "If you can see how they're improving their daily life through sport, you can see this community is safe. Sport is a big thing for me in the community that can help make it safer."
Despite the high number of youngsters he serves, Ahamed manages to achieve a personal touch. He knows everything about each member, from their last score, their injury history, to who is best on social media. Every stone is unturned.
Though Ahamed's heart remains at London Tigers, his ambitions stretch beyond that. Elite coaching - the Bangladesh Premier League is a possible destination - is ultimately the aim. But given his desire to nurture cricket coaches of the future among current players, Ratan is relaxed about what the future holds.
"His main passion is to work with young people," he added. "As long as he works with the young people, he can develop a few more Tanvirs.
"He wants to make sure there are people who play at a high level, but he also wants to work with the elite as well.
"He is a learner; he always asks people questions. That is a good quality for anyone who wants to learn. He wants to work with BPL and one of the things he is trying to do is get more female coaches and work with parents around this area to help girls play cricket and continue at a higher level."